OUR MISSION
At Throat Punch Coffee Co, we have just one mission; no nonsense, big flavour, delicious coffee. We don't make false claims of being the "strongest anything" because we aren't. We actually care if our coffee tastes like burnt rubber. And speaking of plastic, we use none. 
OUR COFFEE
Our original Indian Robusta, for those who require a big caffeine kick. Ethiopian Djimmah, for those who prefer a more nuanced Arabica, but still want big flavours. Mexican Mountain Water Decaf, for everyone who wants a great cup of coffee, without the heart palpitations.  And our very own blend "Number 30" that we have specially developed for those who want a decent strong coffee that is suitable for a busy shop espresso machine. All of our coffee is roasted here in the UK, ensuring maximum freshness on delivery.  If you like bigger flavours and a stronger cup of coffee, you may enjoy Throat Punch Coffee. 
Throat Punch Coffee Co. originally started in 2018. We, Alex and Diana, were actually working on a different social media project to begin with, but now we get to call ourselves Throat Punch co-founders.
The old collaboration made us realise that with our combined skillsets and experience in retail, hospitality, web development and digital marketing, we might actually have a chance to succeed in the e-commerce space. All of that, plus our passion for good coffee and/or a pretty substantial caffeine addiction led us to the development of the first Throat Punch Coffee Company online shop. 
We wanted to create a brand that takes the product seriously, not itself! This is how we ended up with our name. A lot of quality artisanal products end up way too specialised, pretentious, or both, which can be off-putting - so we took a different direction. Being unapologetically honest and upfront about everything. No nonsense, no false claims. Just great tasting coffee, packaged in a way that doesn't crowd the landfills with plastic. And even though our range now is more inclusive than it used to be, accommodating a wider range of preferences and taste choices, our original Indian Cherry Robusta is still as offensively strong as ever.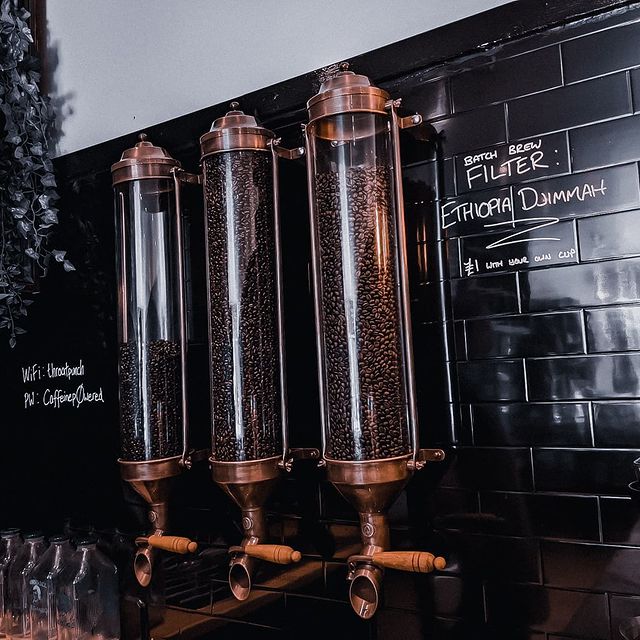 A milestone in our journey was June 2021, when we got the keys to our first ever shop. Navigating the murky waters of Edinburgh commercial real estate opportunities, the route was anything but straight forward. Ultimately though, it landed us to our 30 Dalry Road location, perfectly suited to Throat Punch, right when the world has begun to recover from the pandemic.
As an online business at the time, we were oddly fortunate in not being extensively affected by the all the differnet lockdown restrictions in 2020 and we continued to grow. Aware that way too many small businesses did not have the same luck, we've made the decision to support local independent business and traders as much as possible in all our future developments. 
On July 17th 2021, we've opened our shop doors to the public for the first time. This seemed as good a time as any for a wee rebrand too. Keeping our old and new ethos at the core, we've found a way to present our range in a slightly more mature way. And in this pursuit, we've discovered an opportunity to continuously collaborate with other creators, talented designers and dope tattoo artists, thanks to whom our merch collection always remains as fresh as the beans we sell. 
Along the way, we've also picked up new team members who help us with the daily operations, local bike deliveries, content creation and general coffee related shenanigans. 
The most popular and photogenic team members are Bear and Dax, the senior and junior barketing executives who are often found in the shop greeting customers or in the office, providing emotional support when the shipping label printer decides to not respond. Had to be said.